Starwood recently had a somewhat badly thought out promo around their Best Rate Guarantee for New York hotels. In a nutshell if you could find a cheaper rate for a hotel at any site other than spg.com, they would give you a free night. As ever with hotel promos, Loyalty Traveler gave a great explanation of the promo here and it's subsequent yanking a few days later here, after they were presumably inundated with requests and doling out free nights. Well I was lucky enough to get one of these requests approved before it was yanked, and I actually went for a two night stay at the W New York Downtown (many people just did one night stays, so basically a free night, whereas I effectively got a "buy one get one"). I have stayed at the original W Lexington more times than I care to remember, as well as a lot of stays at the Union Square one, but this new W I had never stayed at, so was happy to get the opportunity to check it out at a decent price.
The hotel is located in the World Trade Center area, right in front of the 9/11 Memorial. It is very easily accessible from several nearby subway stops (World Trade Center, Rector Street, Cortlandt Street and Wall Street are all in easy walking distance). Getting a cab there is easy too though getting out can be a bit more challenging at it's not an area cab drivers naturally roam for fares. I arrived in the evening and took the subway to Rector St and after a short walk found the building:
On entering it is one of those hotels where you have to take an elevator up to the lobby – in this case on the 5th floor. On that 5th floor the reception is right ahead of you as you come out of the elevators, with a bar to the right. I arrived quite late and the bar was basically deserted, which is typical for this part of town. I am sure at 6pm it would be quite busy. On checking in the first thing I noticed is the front desk agent was genuinely nice, friendly and welcoming. I find at most W's the staff have a somewhat egotistical and/or aloof attitude, but the guy here was truly welcoming and that was a nice change for a W hotel. I did not get any kind of upgrade as an SPG Platinum member, but I had already read that they have very few suites open at this point and I was happy to just check out the regular room anyway.
The room itself turned out to be very nice, though of course being a W, and especially a W in New York, it was not very big. But I did like the use of space. The area on the entry wall was made up as a desk/storage/TV unit: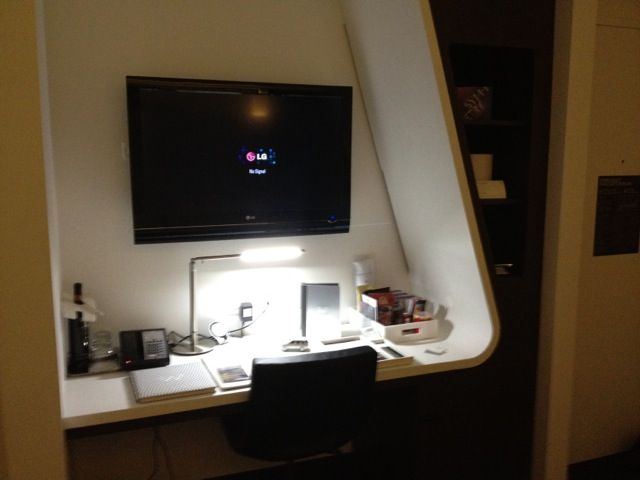 I found that cap over the wine bottle on offer particularly interesting, though not quite sure of the function!
The center of the room had the standard W bed, nicely decorated, with a useful set of accessories on the bedside table: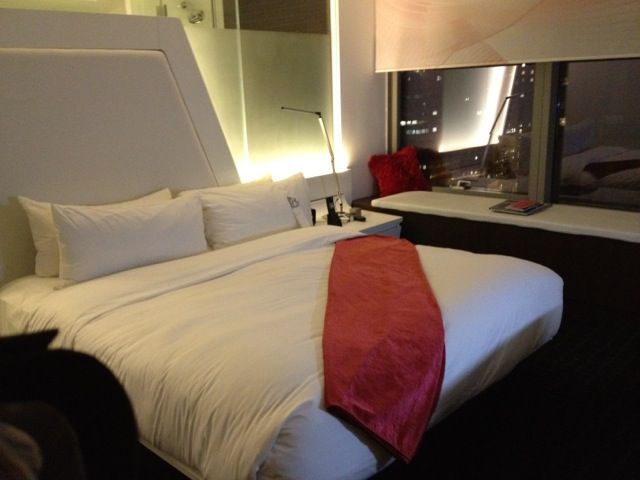 It was a bit disappointing that the sound system you see there on the left just had a jack rather than a full charging connection for my iPhone but hey you can't have it all (and I hear some people have these odd "Android" phones? 🙂 )
Also as you can see there was a nice window ledge which you could (theoretically) sit on to enjoy the view outside. My room was facing West, so no view of the World Trade Center area, though in the morning I got these snaps which made me think that many a hotel would class this room as "Ocean View" !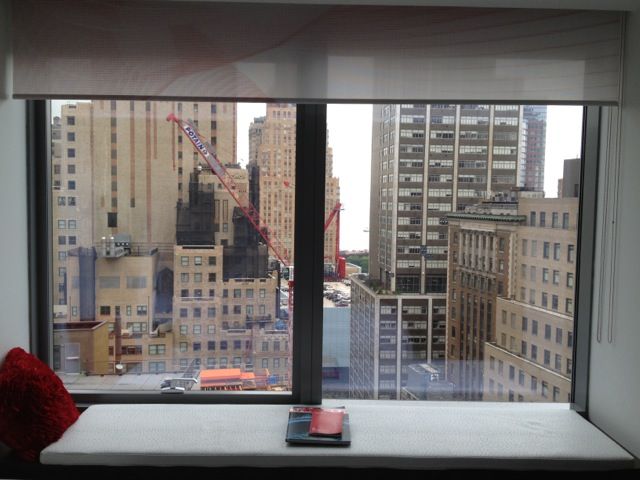 Back to the room, the thing I liked a lot as compared with the W Lex was the bathroom. Here it was placed behind the bed so it was basically the same width as the main room. I always struggled with the tiny cubicle style bathrooms of the Lex hotel so this was a welcome and relatively spacious setup:
On the desk was a little rubber Acura advertising the Acura-Ride service offered here and at other W's. I did try to book the service on both mornings I was there, but by the time I got to booking there was nothing available until later in the morning than worked for me. If you can book far enough in advance, this is a nice freebie. For sure you will get a bit of a pitch on Acura cars but that is fine for me if it means a free ride around Manhattan!
I did have a business breakfast at the BLT restaurant, but I did not eat anything too exciting as I am trying to cut back the pounds so just had the fruit plate. I was a bit disappointed not to have a fruit tea which I can happily get at the nearby competitor Andaz Wall Street. That said it did have great views out over the World Trade Center site:
Overall I really enjoyed the stay. I would certainly stay here again if the rates were competitive, though I have to say the Andaz often seems to be cheaper and it definitely does not have the edge over that property. But for me chasing my SPG status it was a nice way to try it out and add a couple more nights to the tally for the year. And next time I will remember to book that Acura in advance!