I recently made a quick one night stay at the Radisson Lexington Hotel in New York to take advantage of the very generous Club Carlson "Big Night Giveaway" promotion. I actually used this promo last year when it got a lot less attention and it introduced me to the whole Club Carlson program, and since then I have made several Country Inn & Suites stays, so in my case this promo worked in luring me away from my usual loyalty (to Starwood) to direct a decent number of stays in the Club Carlson direction. I got status-matched to their Gold level which is the second highest level, based off of my Platinum Starwood status (highest level). Anyhow I was glad to see this promo come back bigger and better than last year. Last year it was 50k bonus for one night at a Radisson. This year it was that plus 44k for one night at a Country Inn & Suites and 44k for one night at a Park Inn.
To fulfill the Radisson stay I managed to find a good rate for the Radisson Lexingtion NY ($168 a night). I only needed and booked the one night, and I arrived pretty late (after 9pm) and departed the next morning so it was a very brief stay but I had seen this hotel a few times and was curious to try it out. The hotel is nicely located amongst a cluster of other hotels along the high 40s and Lex (right opposite Hyatt 48 Lex, couple of blocks from Intercontinental, W NY etc) with the main entrance on 48th street. My first impression on arriving was a very nice lobby area, a large open area with nice dark woods and color accents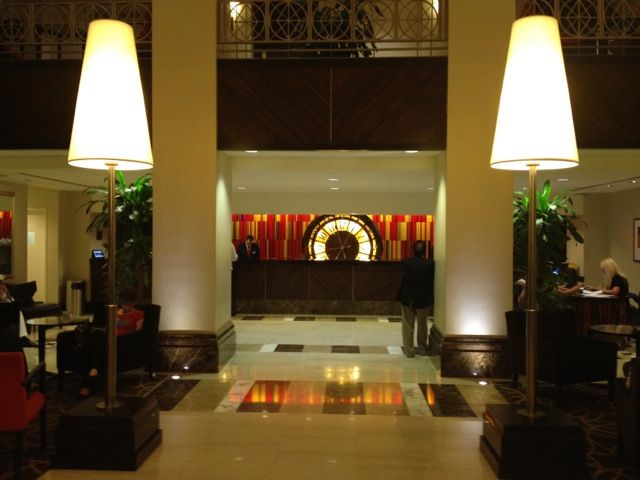 From the front door looking toward reception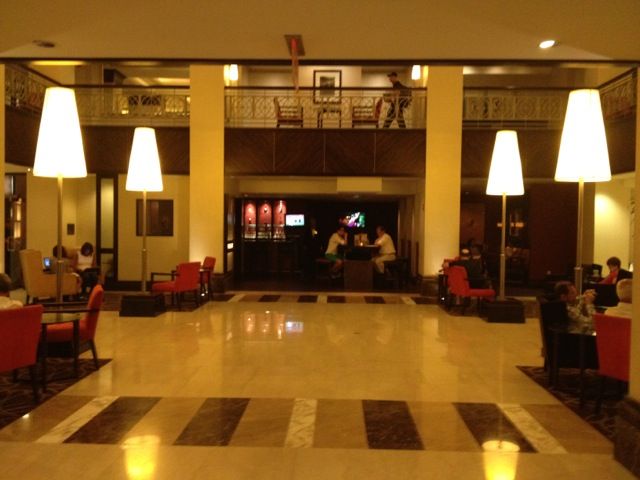 Side view of lobby from elevator bank looking back
The look was a nice mix of classic and modern and quite pleasing. I waited in line for maybe a few minutes to check-in and then for the first time got some recognition from the very friendly front desk of the status I had been granted: I was given an upgrade to a suite, and a bag with two bottles of water. It was a pretty hot night and I had walked for maybe 20 minutes or so to get there so frankly the water was a very welcome gift! I was quickly off to the room, interested to see what a suite at this place would be like. Out of the elevator, the hallways were nicely decorated but the old ceiling was quite low and made it feel a bit more claustrophobic than the nice open lobby downstairs.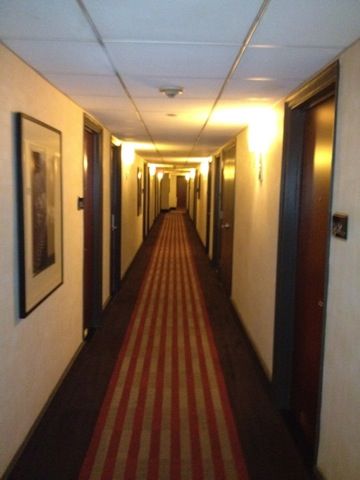 On entering the suite I quickly worked out it was basically two rooms "stuck" together. And not huge rooms either, the individual rooms were very small even by New York standards. But the two rooms together made one decent size one. The first room had a bathroom and living area with couch, coffee table and  desk with flat screen TV. The other room was of course the bedroom, with a queen bed (Radisson use the sleep number bed, but the control on this one seemed to be dead so I just went with whatever it was set to), another flat screen TV, and another bathroom. It had another entrance door to the hallway confirming it was a stand alone room in it's own right.
Living room TV and coffee table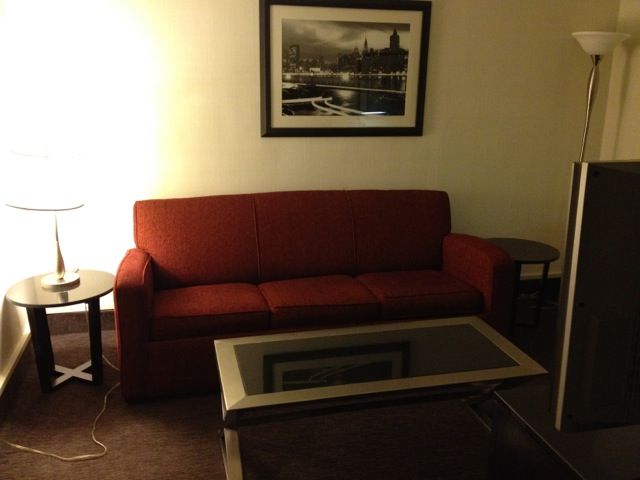 Living room couch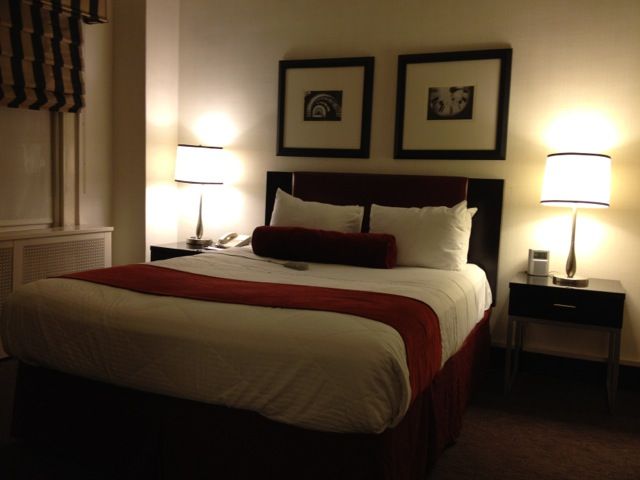 Nice bedroom with sleep number bed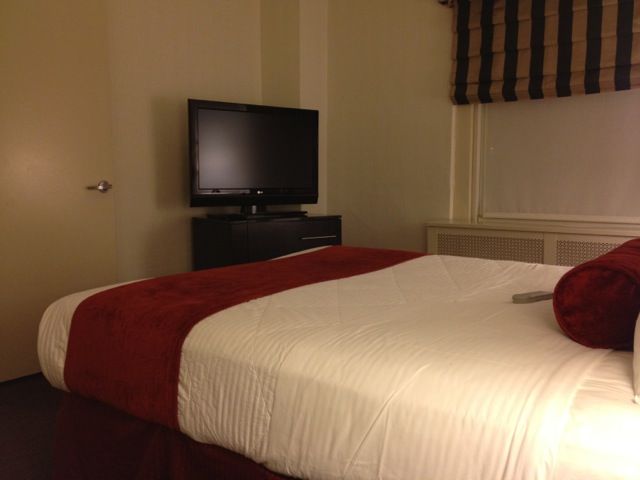 View of TV in bedroom
One of the two identical bathrooms – not much shelf space, otherwise functional

Despite the lack of control the bed was very comfortable, and being on a high floor (I seem to recall being 22 or 23 or so) it was high enough to avoid the noise that often pollutes NYC hotels, so I got a very good nights sleep. I watched a bit of TV and glad to see the channels were mostly in HD (still surprised how many NYC hotels have HD TVs with SD channels which is awful to watch).
In the morning I was up and out pretty early so I can't comment on the breakfast facilities. The lobby and elevator were very busy with South African Airways flight attendants – I guess they use it for layovers, and the lobby was full of their huge luggage. But it looked like the bell staff were taking good care of them. I managed a snap of the view from the room before leaving, nice view of neighboring roof tops:
This was a very quick stay so I will caveat my opinion that I only saw the place briefly. What I will say is that while it was pleasant enough, and the suite upgrade was a nice touch, I would be surprised to use this place again unless it was to fulfill another promo or the rate was really cheap. There are several better options in and near Manhattan (I will cover some of my favorites in future blog posts – I regularly travel to NYC so have tried many different hotels). My main concern was the size of the room minus the suite upgrade. Really was tiny, and was really an old room cleaned up with a bit of modern decor. Still it served the purpose very well, and my 50,000 points posted along with the 2,000 bonus for booking online plus my 50% (of base) gold bonus with a couple of days of leaving (total of 54,837 miles). Bravo Club Carlson!