2. United Airlines First Class, Raleigh – San Francisco
3. Singapore Airlines First Class, San Francisco – Seoul
4. Singapore Airlines First Class, Seoul – Singapore
5. A night and day at the Conrad Centennial, Singapore
6. Singapore Airlines Business Class, Singapore – Male, Maldives
7. Maldivian transfer, Male – Park Hyatt Maldives via Kaadehdhoo (KDM)
8. Park Hyatt Maldives – our villa and the property facilities
9. Park Hyatt Maldives – diving in North Huvaadhoo / Gaafu Alifu Atoll
10. Maldivian transfer, Park Hyatt Maldives – Male via Kooddoo (GKK)
11. Etihad Airways Business Class, Male – Abu Dhabi
12. Overnight at Park Inn by Radisson, Yas Island, Abu Dhabi
13. Etihad Airways First Class, Abu Dhabi – New York JFK including Etihad First Class lounge
14. The last hop on American Eagle and conclusion
Check-in at Changi was quick, efficient and completely uneventful. A quick pass through immigration and we were off on our way. I am not a huge fan of the Singapore Airlines club at SIN. It's perfectly pleasant, just given it's Singapore Airlines on their home turf you'd kind of expect something special but I find it quite ordinary. Maybe comparing it with a SkyClub would be harsh but it's no better than Delta or AA's foreign efforts.  So I didn't get any pictures or anything at the club. The place was packed, wi-fi connection was awful, and we didn't hang out for long. Turns out also our gate was on the other side of the terminal and a good long walk so it was a good thing we set off early to get there. From this and prior experience with SQ I have learned you are better off on their planes than in their clubs…
Singapore Airlines Flight SQ452 SIN-MLE
Sunday 14th October 2012
Scheduled: 8:45pm departure 9:50pm arrival
Actual:9:09pm departure 10:21pm arrival
Aircraft: Airbus A330-300
Flight Path: Click here
… And for sure so it was with this flight. We were greeted at the door with a huge warm welcome and shown to our seats. I just knew from the excitement, warmth and energy of the crew it was going to be a great flight. And the cabin was pretty empty, so I got a chance to pull out the trusty Canon S95 without Mrs MilesAbound getting too angry or embarrassed 🙂
Our seats for the next few hours
View across the aisle
Thank you…!
Views of the cabin
Back at our seat…
As ever champagne was quickly delivered. Maybe there is no Dom or Krug in business class but I had no complaints about the Henrot Brut on offer which we thoroughly enjoyed: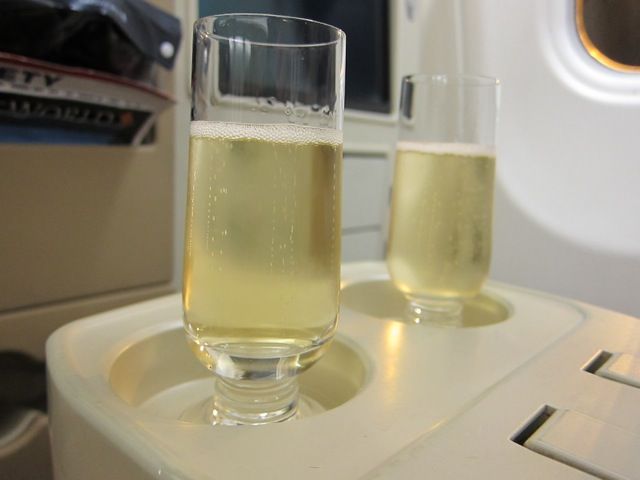 Back on the bubbles 🙂
Apparently this flight was also delayed on the ground, but when you have SQ's finest staff topping up your champagne every few minutes it's kind of hard to notice! We were entertaining ourselves a lot with the slippers they handed out which made us all look like Smurfs:
Despite making me look like a blue Hobbit they were quite comfy. Anyway soon enough we were up in the air and once the seat belt sign was off I headed off to the bathroom to get freshened up. SQ do not hand out amenity kits in business class but instead put all the stuff you might want in the bathroom. I actually like this fine as amenity kits I tend to bring home, leave in my bathroom and never use! So fine to just use what I need and be done
Bathroom amenities
 The cabin was maybe 25-33% full so a lot of open space here. I have to say I really don't understand why SQ don't open up more award space to partners… it's a way to fill empty seats for some amount of money and a chance to showcase the product. The story goes they like to "protect" their premium cabins, but their dismal financial performance I think speaks volumes for the merits of that policy. Anyway that was not my worry tonight and rather I just get to enjoy their fine meal service, which kicked off with a fabulous mix of various satay: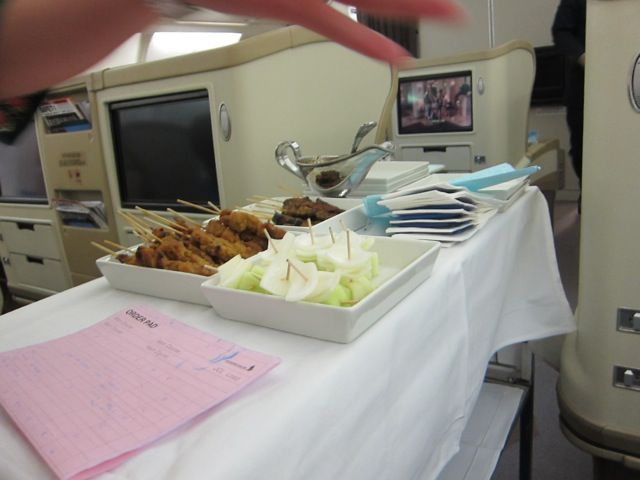 The satay was fabulous and I washed it down with more of the Henriot, which was also perfectly quaffable. After this I went with a crab-meat salad which was also very tasty. The yellow herb vinaigrette was particularly nice: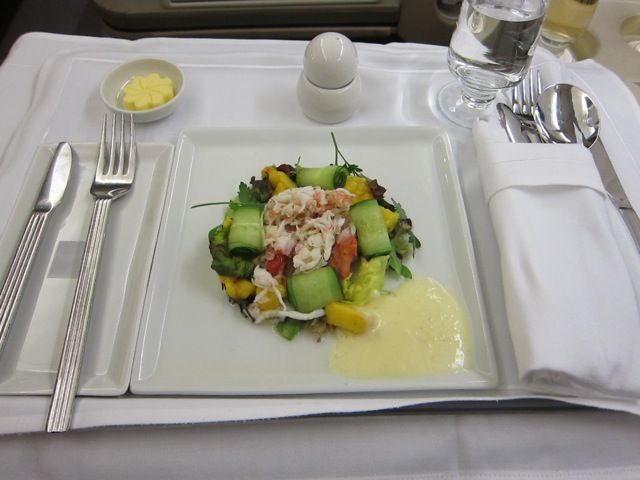 After that was polished off and washed down with more Henriot I went for the duck main course, switching to an Italian red wine. The duck was very enjoyable though not very exciting:
After that I finished things off with some ice cream and fruit, again nice but unspectacular
The full menu details are here:
The food was very enjoyable – as I have pointed out not as exciting as you'd get in first but very palatable none the less. And the service was fabulous, constant top-ups and attention and a very engaged crew who had the knack of always being there when you needed something. Top marks to this crew too.
With dinner capped off it was time to take it easy again and the seats on this regional Airbus are the same kind of angled-lie-flat beds that American Airlines or Air France think is suitable for flights like JFK-NRT or CDG-JNB. I struggle to sleep on these things, but for a few hours of coasting over the Indian Ocean, they are perfect. Got a few snaps of the seat in flat mode: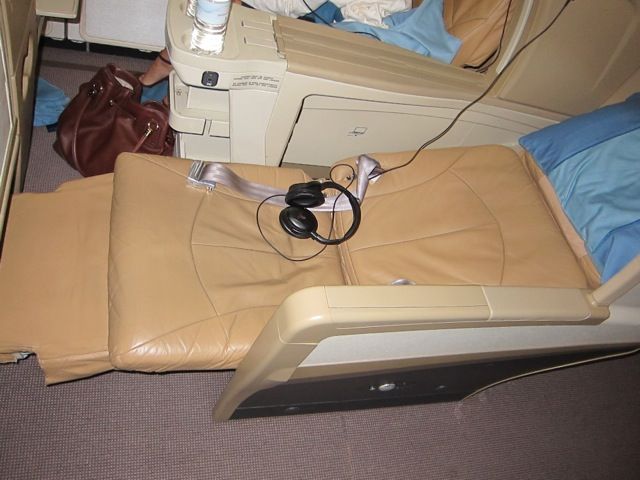 The entertainment is via a decent size seat back screen and on this flight my wife and I both watched the remarkably entertaining Seeking a Friend for the End of the World. The angled seats make for very comfortable movie watching. We just needed some pop-corn 🙂 With the movie done we were getting very close to the Maldives: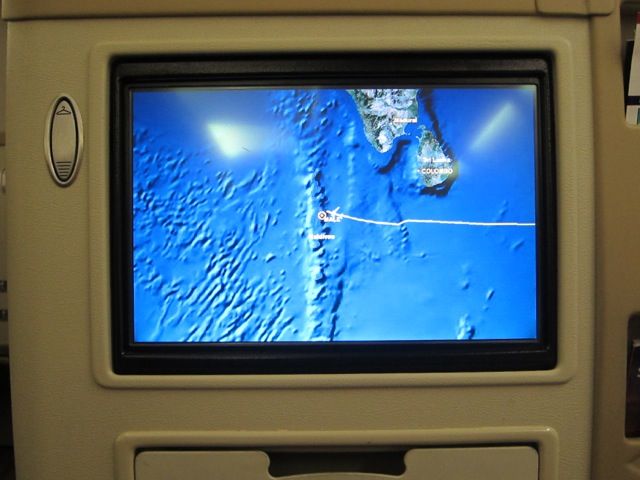 We were on descent into the Maldives. Being quite late at night sadly there were no beautiful views to enjoy though the odd patch of lights signified some island we were flying over. But soon enough we were on the ground – with a big thump I have to say and then some extremely heavy braking to slow down this big bus on the presumably short MLE runway. And with that our Singapore Airlines adventure was coming to an end. It had been a great ride and this was a great and thoroughly enjoyable flight. Let's hope SQ either get real with economics and start opening up their product in the future or they have another IT screw up some time in the not too distant future 🙂
We landed a little late and got as warm a farewell as we were welcomed as we took the old school style stair-well off the flight on the tarmac at Male, Maldives…