2. United Airlines First Class, Raleigh – San Francisco
3. Singapore Airlines First Class, San Francisco – Seoul
4. Singapore Airlines First Class, Seoul – Singapore
5. A night and day at the Conrad Centennial, Singapore
6. Singapore Airlines Business Class, Singapore – Male, Maldives
7. Maldivian transfer, Male – Park Hyatt Maldives via Kaadehdhoo (KDM)
8. Park Hyatt Maldives – our villa and the property facilities
9. Park Hyatt Maldives – diving in North Huvaadhoo / Gaafu Alifu Atoll
10. Maldivian transfer, Park Hyatt Maldives – Male via Kooddoo (GKK)
11. Etihad Airways Business Class, Male – Abu Dhabi
12. Overnight at Park Inn by Radisson, Yas Island, Abu Dhabi
13. Etihad Airways First Class, Abu Dhabi – New York JFK including Etihad First Class lounge
14. The last hop on American Eagle and conclusion
The Villa
It was really a great feeling to finally arrive at our Villa, Villa No 19 on the far East side of the island. Given the early hour we were clearly ready to sleep but still diligently listened as our host went over the room features. The villa was pretty much the same as it was on our prior trip under Alila management, but there were some nice enhancements. A very cool new feature was an iPad loaded with hotel information instead of the usual folder with printed pages. Very high tech! And most importantly, I was very happy to see we had been upgraded to a Pool Villa. I had started a Hyatt Diamond status challenge (from my SPG status) specifically for this trip and it paid off by saving us the $200 a night upgrade fee. On an eight night stay like this that's a $1,600 saving though I have to say for me it is really worthwhile to have the Pool Villa. For us the Over-water Villas don't hold the allure that most people seem to have, but having your own little fresh-water pool to jump into after snorkeling or diving is priceless. The Villas have what I would describe as a very minimalist, modern design with a lot of beautiful dark woods contrasted with white fabrics. They are very beautiful and relaxing. The main room of the Villa has the bed, a seating area with a daybed, and a desk/cupboard area with a sound system that you can plug your iPod/iPhone into and TV/DVD system.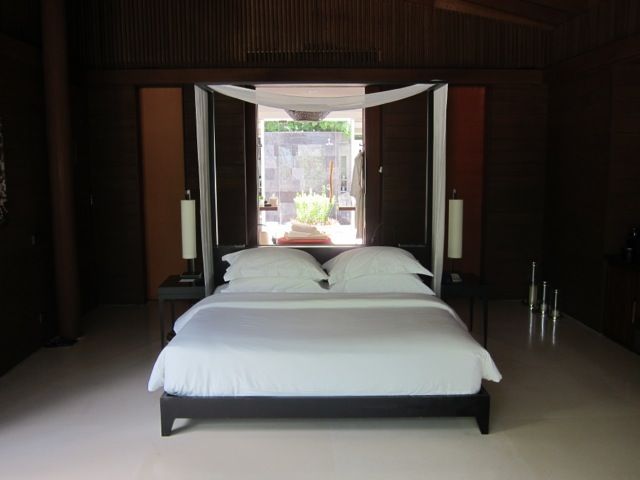 View of the bed with outdoor shower area visible behind
Nice view through the bed 🙂
Seating area with day-bed overlooking pool and beyond to Indian Ocean
Another view of the day bed and pool
The bathroom is at the back of the Villa and is equally spectacular, split between and indoor area with dual vanities, a shower room and toilet, and an outdoor area with a shower – which is the one I used all the time – and a bath.
View of the indoor and outdoor bathroom
One thing I was really happy with was that the products they use are still the same Bergamot based products they used when we had previously visited. I loved the smell and feel of these and was hoping they'd still have them. The smell immediately brought back great memories of being here before! As you can see from the picture, the outdoor shower area is fully enclosed and very private so no need to worry about being seen showering in private 🙂
Looking from the outside in
In front of the Villa is the pool with a deck area furnished with table and chairs and an outdoor day bed. The pool itself is small but beautiful with an infinity edge facing the ocean side. The amount of ocean view from each villa varies quite considerably. Ours I felt was perfect – we had a nice view of the ocean but about two half of the front was covered with vegetation offering a good level of privacy. There are other villas with no vegetation which are fully exposed, and others which seem pretty much hidden. I was more than happy with our view.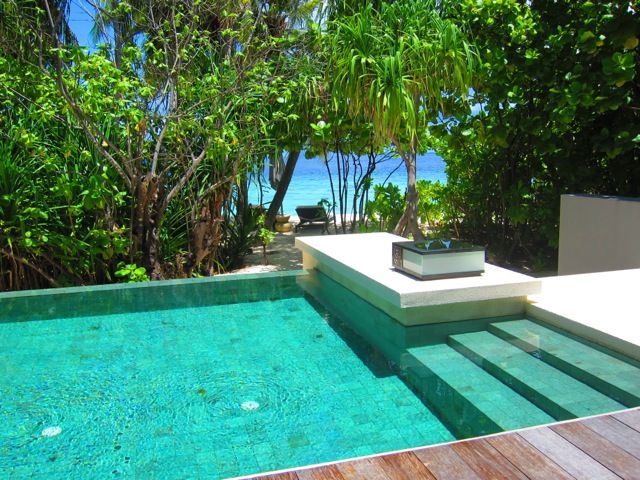 View of our pool from the Villa deck 
Looking back at the pool and Villa from the beach"entrance"
Perfect place to wash off the sea water!
The decks do have day-beds which look very attractive but frankly are more form over function, at least in this land based Villas. The problem was the one in this villa was right under some dense vegetation and got swarmed with ants. While they seemed to be treating it, I think they were just fighting a losing battle against nature. The one on our prior stay was usable, that said the view from the prior villa was not quite as nice as this one. So it's a bit of give and take between the different villas.
Day bed looks great – not much use though!
Beyond the deck and pool area steps lead down to an entrance to the beach where each Villa has it's own couple of sun loungers complete with table and umbrella for chilling on the beach.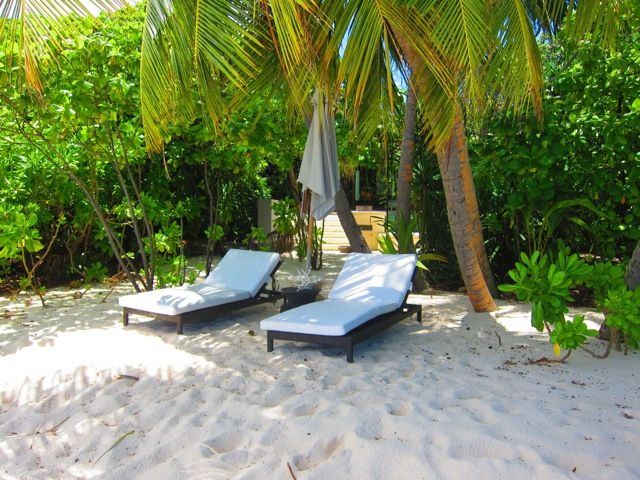 Sun-loungers where many an hour was spent!
Not a bad view from those loungers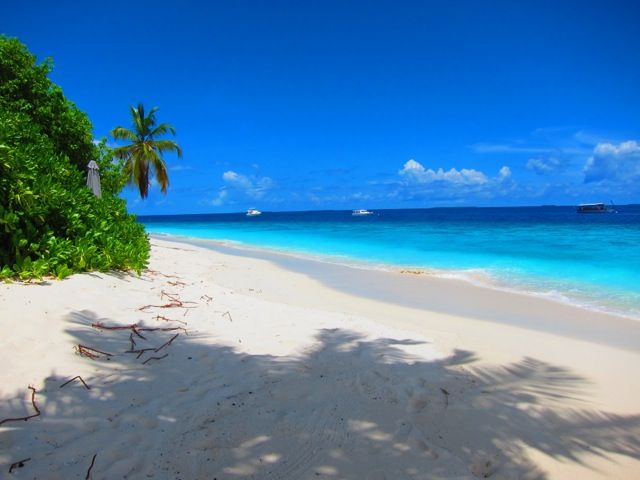 View of the beach looking West
… and looking East
I hope the pictures do it some justice, but the beach is absolutely stunning with soft powdery sand, crystal blue and amiably warm water teeming with beautiful sea-life. We have been to some beautiful beach destinations in our time from California to the Seychelles and this is truly about as good as it can possibly get. And it's pretty awesome to be able to wake up every day and see this view, or shower and see the same view 🙂
By way of comparison, below are some pictures from our prior stay in 2010 in Villa No 12, which is closer to the main jetty along the North shore of the island. We loved this villa too, and the beach in front was very nice as the water was very calm to swim in, nice for both lounging and snorkeling out to the reef.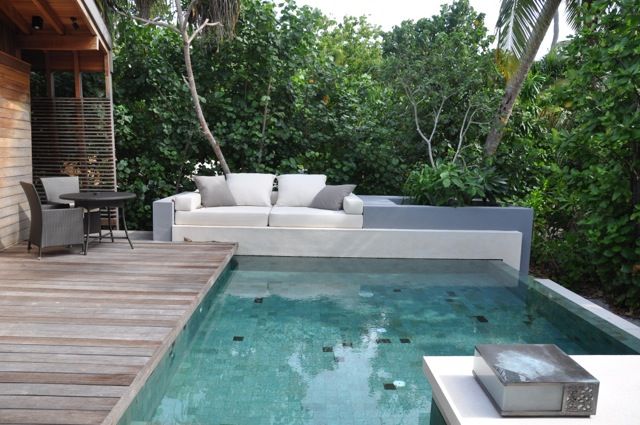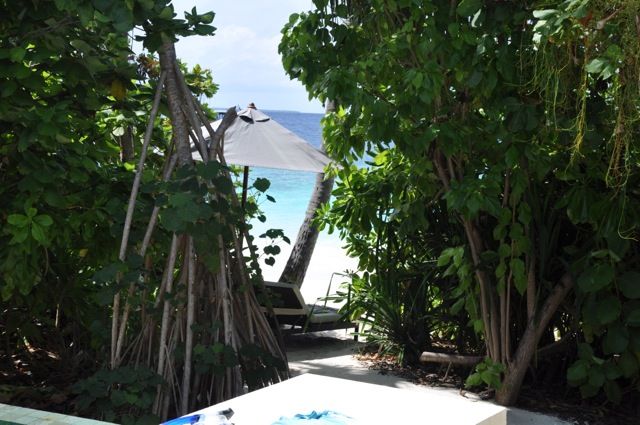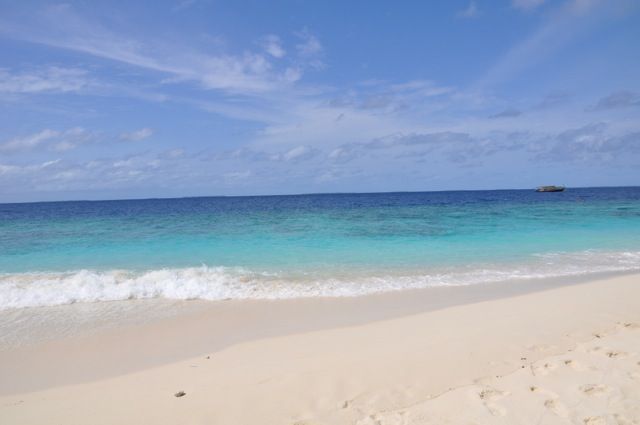 Around the Property
Due to some bad jet-lag we pretty much did not sleep the first couple of nights, but this meant plenty of time in the early morning to take nice leisurely strolls around the island 🙂 A walk around the entire island along the beach takes around 15-30 minutes depending on your pace, and can only easily be done at low tide (it's possible at high tide but around the jetties it may mean wading through a feet or two of water). Anyway these pictures were taken while ambling around the island
Welcome to Paradise!
The main jetty at low tide
Covered seating area at end of jetty – this is a new addition from Alila days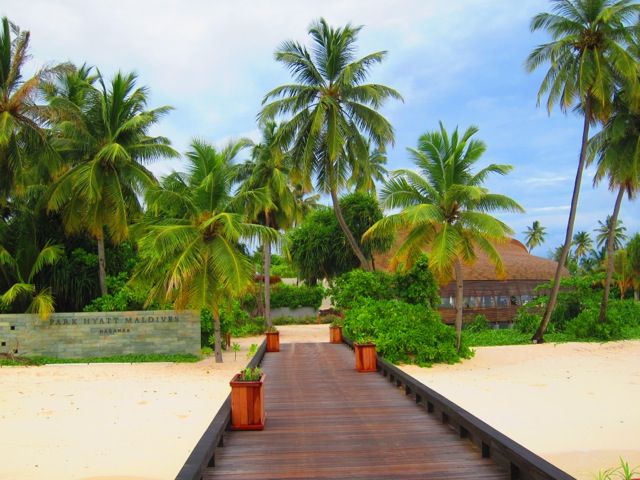 View on arrival if you don't arrive at 3am 🙂
The leaning Palm Tree of Hadahaa!
The upside "Dhoni" boat now furnished as a lounge, another new addition by Hyatt
Overwater villas
The one bonus of being awake at all hours due to jet lag was I got to witness some beautiful sunrises, and managed to get a couple of snaps that hopefully do them some justice though it's never really possible to capture these moments in print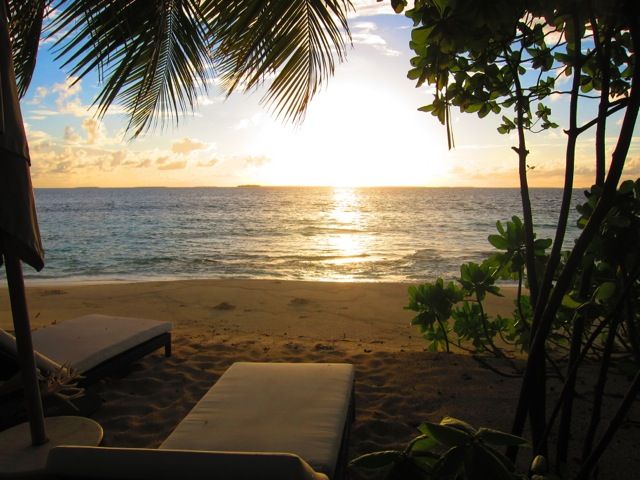 There is a lot of beauty to admire around the island, and it is very easy to amble around peacefully. I was told occupancy was around 50% while were staying there but walking around you would think it was more or less empty. I think even when this place is full it will feel empty, certainly compared to most places in the world.
Eating and Drinking
Food and drink center around the main Dining Room, the adjacent Bar, and the newly renamed Island Grill which is in the sand behind the main Dining Room. All guests whether on paid or award include breakfast which is served in the main Dining Room. Breakfast was definitely a sumptuous affair, starting with a tier of appetizers that varied each day including pastries, a delightful tuna roshi (tuna with lime and tuna served with flatbread) and fruits. And this is accompanied with a very extensive a la carte menu, which it seemed you could order pretty much whatever/whenever (maybe every W employee in the world should be sent here to learn what that really means!?). Not that we ate that much, but it was just nice to know you could have what you choose. However the one thing that really, really set this place apart from everywhere else, including itself  in it's prior life as Alila, was the service level. As keen divers (we stayed eight nights and dived on 6 days which is pretty much the most you can do rationally) we always wanted to catch the morning boat dive trips and we would not want to take breakfast first. I can tell you from experience that diving – going 30 metres under water with the associated pressure working your lungs – is not much fun right after a hearty breakfast. Much nicer to take a nice Isagenix bar to give us plenty of energy but not leave you bloated. Nothing worse than having coffee, tuna, bacon, pancake, whatever coming up on you when you're only breathing apparatus is a tank 🙂 So anyway what was great is they let us take this "breakfast" whenever we came back… which could literally be as late as 1:30pm some days. Indeed on many days we bumped into Anna, our "personal host" (and who was overwhelmingly one of the most genuinely helpful hotel staff members we have ever had the pleasure of dealing with) and she would come with us to the Dining Room to make sure we were taken care of properly. It really was exceptional service.
Typical view from "breakfast" – beautiful!
After our late breakfast we would be more than satisfied until cocktail hour, which starts around 6pm here in Hadahaa. This is again where the Diamond benefit kicked in, as the first cocktail was on the house for Diamond guests (and by cocktail I mean anything you choose off the bar menu, including champagne PointsEnvy will be glad to hear!). Cocktails could be taken either in the main bar itself (which we spent many hours on our last stay) or on the new seating area they have made on the beach, which is really a beautiful addition – and where we spent most of our time on this trip.
As with breakfast, cocktails are served with a trio – this time a trio of little amuse buche to go with your cocktail.
Enjoying our trio at the bar
And enjoying them on the beach, avec Mojito!
The seating area on the beach is a great addition with several canopies suited for couples to lounge, enjoy a drink while watching the sun going down over the beautiful beach and villas. And there were some pretty spectacular sunsets: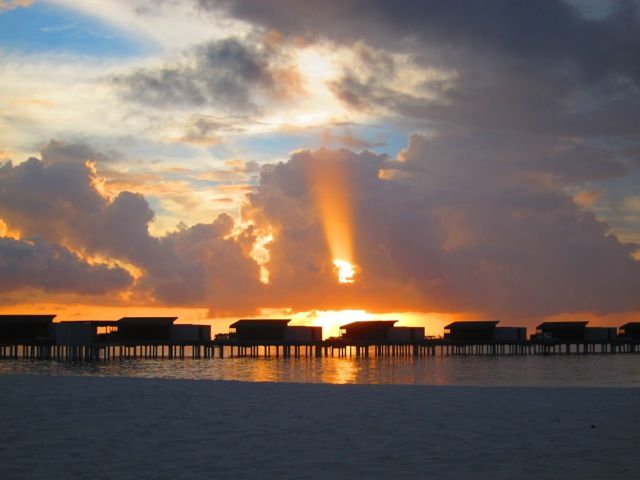 Beautiful sunsets
View of the beach seating area
Given our love of the cocktail hour, and of the awesome Mojitos in particular, we simply had to try one of the activities that was on offer of a cocktail class. If I recall correctly this was something like $40 for each of us, and was by far the best way we spent that amount of money ever. It involved arriving for cocktail hour an hour early (hey who doesn't like it when cocktail hour starts early!?) On arrival we met our host and barman Asanka who it was clear from the get go was very passionate about his job. He had worked in Dubai before moving to the Park Hyatt and brought a huge amount of enthusiasm with him. He took us through how to make the perfect Mojito: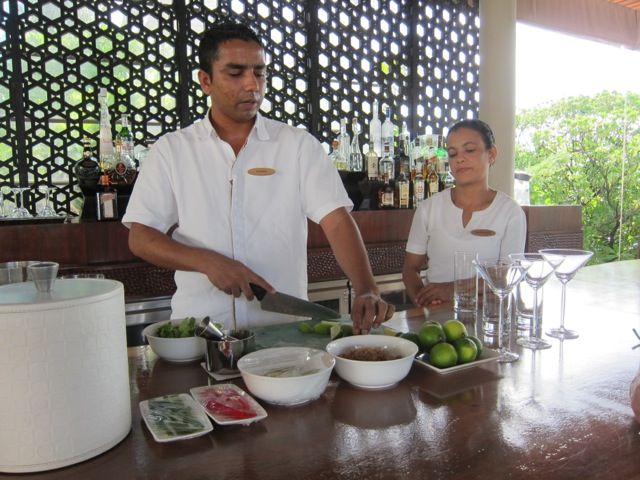 Once he had shown us how there were two important things for us to do – 1) drink the end product, and then 2) see how well we could reproduce it 🙂 We did a pretty decent job, not as good as the pro but very palatable. Then after that we had a crack at making a Martini, which was pretty potent stuff. It was a very enjoyable time and I love to find people like Asanka who take such pride in their jobs. A real asset for any hotel. I have to say there is a bit of a "hard sell" on the various activities but I urge anyone who visits to try a few as I think it gives the staff the opportunity to interact and shine in this way and really enhances the overall dynamic of the stay.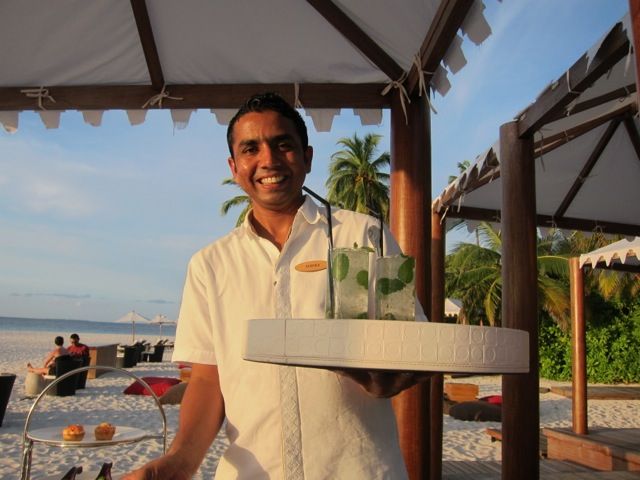 More Mojitos! Thanks Asanka!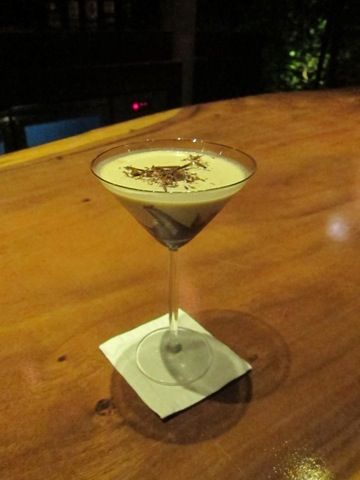 This Chocolate Toblerone for after dinner was spectacular!
After cocktails are done with of course it's time for dinner. We had booked the Passport Escape package, which gave us 7 nights including 5 three course dinners. Sadly this great value is no longer available as it was discontinued by Hyatt shortly after we left. I am beginning to think we are a curse on great points redemptions – last year we went to the Grand Mauritian in Mauritius which burnt down shortly afterwards, and came back via Seychelles and Air Seychelles (using Detla SkyMiles) who promptly pulled out of international operations shortly after! Anyway…. sorry to curse the awards, but the passport escape worked out nicely though having eaten quite well at "brunch" we really did not have huge appetites and while we would go with 2 or 3 courses frankly we'd have been happy with one. Dining choices are the main Dining Room or the Island Grill. The Dining Room is a great spot, overlooking the pool with beautiful views of the stars.
View of the dining area over the main pool
The menu at the Dining Room is international fare with everything from steaks and burgers, various Asian styles, fish etc. There was enough variety that over the 5 meals we had here we were able to get something different and appealing each time. The food was generally very good, not spectacular but always very pleasurable. And the setting is just beautiful.
The other restaurant available is the recently "remodeled" Island Grill, which is a more relaxed vibe with a sand floor conducive of going bare foot! I was very curious to see what they had done here as on our prior stay this place – then called "Battutas" – was truly fantastic. So it had something pretty special to live up to. Battutas menu was based on local dishes largely focused around curries and grilled fish. The new theme at Island Grill was again somewhat more "international" in it's style and somewhat more generic. The style is you pick your main protein – some fish or a piece of meat – and then pick the rub and the sauce and the sides to go with it. Personally, I am not a fan of this. When I go to a restaurant, I want to eat a meal a good chef has produced, based on their knowledge of what works well. I prefer the chef to experiment in private what works well and what doesn't, rather than me playing chef at the restaurant. Also for this to work well the wait staff really need to have some good ideas about what goes well with what, but this didn't seem to be the case. That said the food we did end up with ended up being truly delicious, and I don't want to sound like a whiner. I just didn't find it as good as it was last time.
Also it's worth noting there are a couple of seating options. You can sit at a table in the sand, which is really nice and very relaxing. Or you can sit at a bar surrounding the kitchen. We really enjoyed this last time. When we went last time Battuta's was never busy, but this time the Island Grill was. I guess that shows that what they have done is made it more generally appealing, and I really can't argue with that. Anyhow I did not get any great pictures at the restaurant, but here are a couple of shots from our 2010 visit in the Battutas days: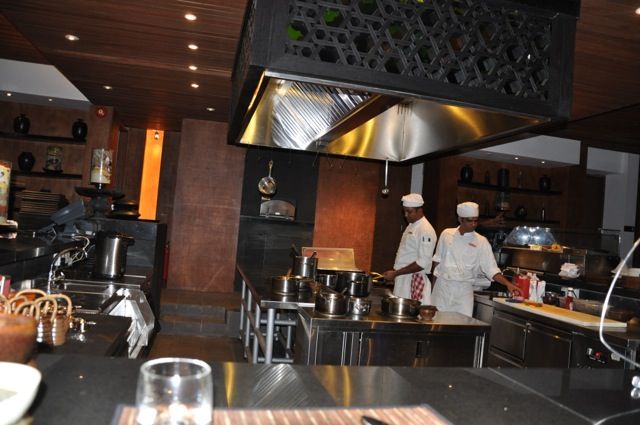 Chefs busy at work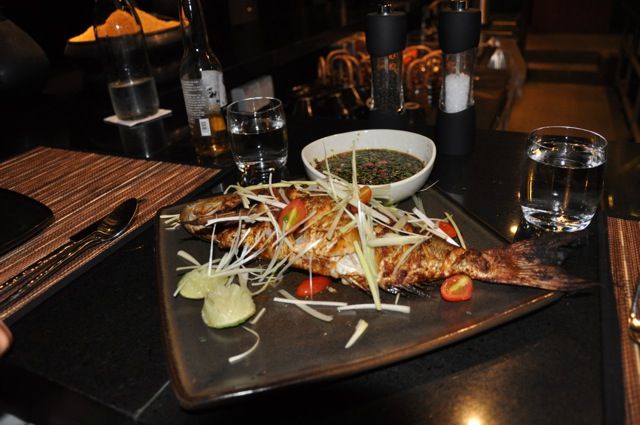 Spectacular grilled fish
On one night we had decided to do the special beach barbecue evening which is normally done right on the beach front. However because on the evening of the event there was a threat of storms the dinner was moved to the Island Grill. I have to say that was a wonderful evening. There was a great barbecue buffet put on, and we ended up sitting with a whole bunch of fellow Flyer-Talking points junkies! That was a lot of fun. There are definitely a lot of people staying here on points now that it is a Hyatt. The other dining options are various private dining options. Back in the Alila days the only private dining option was the option to dine on the roof of the main Dining Room, with great views over the pool and ocean beyond. Hyatt have extended the options available and now you can have private dining on the beach, on one of the jetties or a cabana in the jungle vegetation behind the Island Grill. On this trip we did not take advantage of any of these options, but in 2010 we did do the private rooftop dining which was very enjoyable. The views – as shown below – were quite something: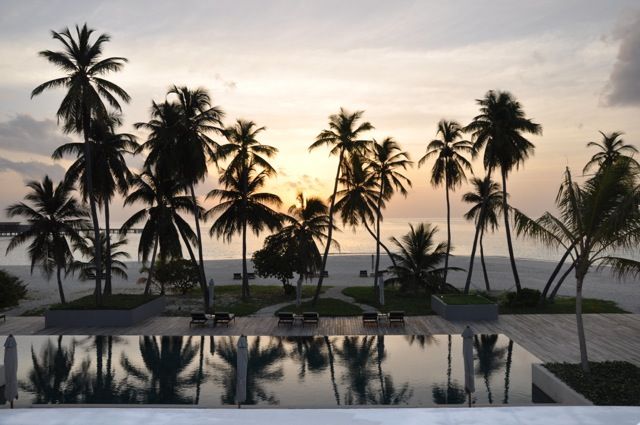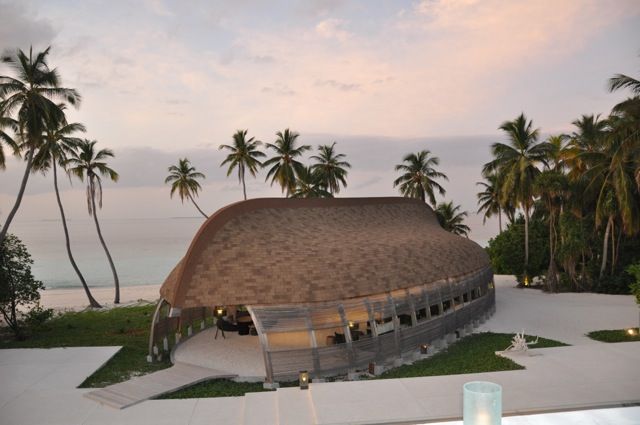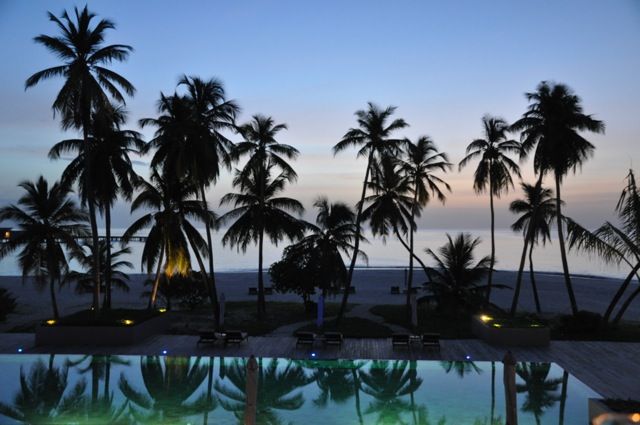 Amazing views from the rooftop of the main Dining Room, back in 2010
Actually one other thing to mention about the island is they have these amazing bats that fly around. They are very large and almost look like birds of prey – that is until they land and immediately start hanging upside from the tree rather than standing proud like a Kestrel!! I mention it here as we'd always see them flying between the palm trees while dining at the main Dining Room. I managed to get one quasi-decent shot on our 2010 stay during our roof-top dinner: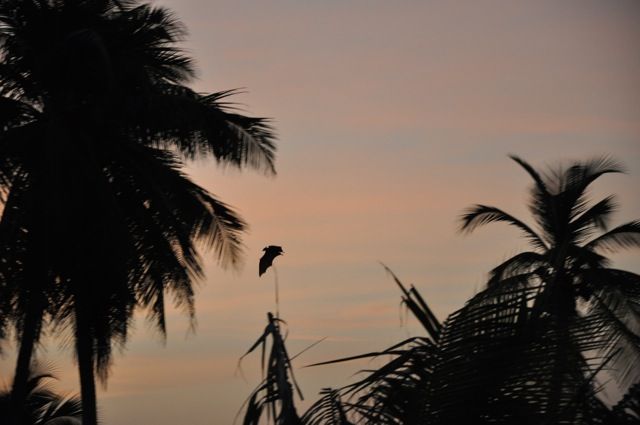 Quite amazing creatures!
The other dining option which we did not try on either of our stays was room service. However we do understand that you can have room service set up on your veranda for another nice private dining option. I can imagine if we ever went back with the kids this would be a hugely attractive option, but with just myself and my wife we always liked to "go out" for our dinners.
The Vidhun Spa
We had one spa treatment on each of our stays. Although the spa was renamed by Hyatt, it is the one part of the hotel that seems to have not changed at all since our 2010 visit. It is still run by Mandara Spa from Bali, which is a spa management company with spas across Asia including several of the still existing Alila properties. Anyway this is no bad thing as the spa is another excellent feature of the property. You approach past a large swimming pool which is open for all to use though I cannot say in our 18 days spent on this island we saw anyone ever use the pool. Behind that is the reception building where you check in and then your spa hostess takes you to one of the cabanas at the back for your treatment. There are maybe 6 or 7 of these cabanas and for each there is a small building with a changing room and toilet, and outside seating shaded seating area, and then a "main" building which has the treatment room. All of these are geared for couples and on both occasions we went as  a couple. Treatments ran at around $150-200 each for a 1.5 session which would mean about an hour of actual massage and then settling in and freshening up time afterwards.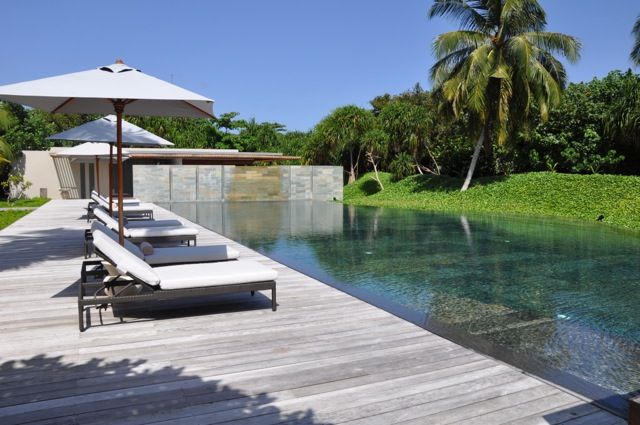 Spa pool with reception building behind the wall
I thoroughly enjoyed the treatments which were performed to a very high standard (my wife is a trained masseuse and has worked as a massage teacher in a high end school in London, so I do know a good from a bad massage) which I did not find surprising given the management. The one word of warning is the place does seem to get very busy. We booked one treatment early on in our stay, but after that the Spa was completely booked out for the rest of our trip. One day when the weather was poor I overheard several people trying to make appointments with their hosts/hostesses but the message was that there was nothing available. So my recommendation is if you really want to use the Spa book it in advance or at the very least as soon as you arrive.
Relaxing loungers in the Spa "gardens"
Conclusions
The Park Hyatt Maldives did not disappoint us at all. It is hard to go back somewhere you have been and loved so much before, expectations are higher, everything is a little better in your memories than it probably actually was, and expectations can be sky-high. But the improvements that Hyatt have made have been subtle but significant. Additions like the seating areas on the beach and jetty add to the practicality without taking anything away form the natural beauty. And the service is definitely significantly more slick and consistent. It still may not be quite up to the high standards you'd get in a big city like Dubai or Hong Kong, but it is definitely excellent. I have to say at 22,000 Hyatt points pere night (or using the Hyatt credit card sign up for 2 free nights) I think this is the best hotel points redemption available anywhere in the world in any program. Some may feel that is pushing it a bit, but I really cannot think of anywhere that comes close. I do hope to try the Conrad Maldives "up the road" in South Ari Atoll soon, but for now this is a long way ahead of everything else I have seen. Highly recommended! Next up I will detail some of the diving, snorkeling and exploration of other islands we did on both this visit and our prior visit in 2010. You can subscribe to Miles Abound by email by signing up here. Keep up to date on ideas and experiences around miles and travel!