2. United Airlines First Class, Raleigh – San Francisco
3. Singapore Airlines First Class, San Francisco – Seoul
4. Singapore Airlines First Class, Seoul – Singapore
5. A night and day at the Conrad Centennial, Singapore
6. Singapore Airlines Business Class, Singapore – Male, Maldives
7. Maldivian transfer, Male – Park Hyatt Maldives via Kaadehdhoo (KDM)
8. Park Hyatt Maldives – our villa and the property facilities
9. Park Hyatt Maldives – diving in North Huvaadhoo / Gaafu Alifu Atoll
10. Maldivian transfer, Park Hyatt Maldives – Male via Kooddoo (GKK)
11. Etihad Airways Business Class, Male – Abu Dhabi
12. Overnight at Park Inn by Radisson, Yas Island, Abu Dhabi
13. Etihad Airways First Class, Abu Dhabi – New York JFK including Etihad First Class lounge
14. The last hop on American Eagle and conclusion
Judging by the number of people we saw at the resort during our two visits and the number of people who actually went diving in the open water in that time, it is safe to say that is actually only a minority of guests here who actually participate in the diving opportunities. That is truly a crying shame, as there is an amazing, captivating and beautiful underwater world to explore surrounding the resort in all directions. One can catch a glimpse of this snorkeling on the house reef, which is itself very beautiful. Indeed due to my lack of both good underwater photography equipment and skills, the pictures at the surface and on the house reef look much better than anything in the deeper seas. But to really see everything on offer at this place, you have to get on the Dhoni and go explore!
Dive trips are typically made in the morning when the water is calmer, and almost every day on both our trips we'd go for the morning "two-tank dive" which for the non-divers amongst you, means going out to one spot for a dive using one air tank, then taking a break of an hour to an hour and a half (a "surface interval" to give time for the nitrogen that builds up in your body underwater to escape) and then go to another spot for another dive, using your second air tank, and then heading home. In the choppier afternoon weather, typically single tank dive trips are offered. We stuck almost exclusively to the two-tank morning trips where we'd leave around 8/8:30 (though once on our first trip left at 6am to catch the sunrise) returning around 12:30 to 1:30pm depending on how far we went and how long we managed to dive.
Here at the Park Hyatt we had the same great boat crew that was here in 2010 and it is basically down to the captain and his gang to decide where to go. They typically stick to the half-dozen or so islands closest to the resort along the Atoll edge, along with the reefs of some of the inner islands and a few "Thillas" which are basically islands that are pretty much under water or with just a tiny bit of land that ever gets above sea level. The map below which I made using a GPS tracker on 19th October shows a typical two-tank dive trip. We started at Hadahaa which is the island on the left and took the boat North-East to a thilla which you see as the tiny landmass just under the ocean-surface. Then during the surface interval you'll see we moved South-East to the small island  "next door" to Hadahaa – more on this amazing experience later. Then after that the boat goes further South-East to the channel in between the two islands Kondey and Dhiyadhoo and we'd do a "drift dive" in the channel where you let the water current pull you along between the reefs of the two islands, before exploring one of those reefs and then coming up to the boat and then sailing back "home"
The visibility underwater on this trip I have to say was not great with very high levels of plankton. This was a real shame for us as on the first trip in 2010 the visibility was just incredible. Still we managed some truly beautiful diving. As I say my underwater photography skills are not great so these really do not do full justice to what you can see, but hopefully they give some taste. I have mixed in some pictures from both our 2010 and 2012 trip to give a flavor: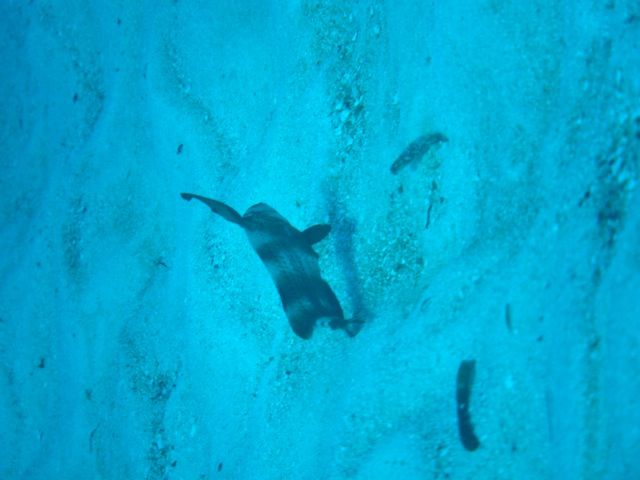 Between our two trips here we put in a total of thirty dives and I would happily do another thirty given half a chance. Now what really sets things apart here is the way surface intervals are handled. It isn't always the case – we did not get this every day – but on several occasions instead of just parking the boat in the middle of the ocean, the crew would take us to a nearby island to explore while waiting for our next dive. On the trip I showed in the map above we went to the island closest to Hadahaa and it was incredibly beautiful. The boat crew were amazing, one of the guys ran up a tree to cut down some fresh coconut which they opened for us to drink, and then we took an impromptu tour of the island:
This is how to snack!!!
I swear I did not use Photoshop on this!!!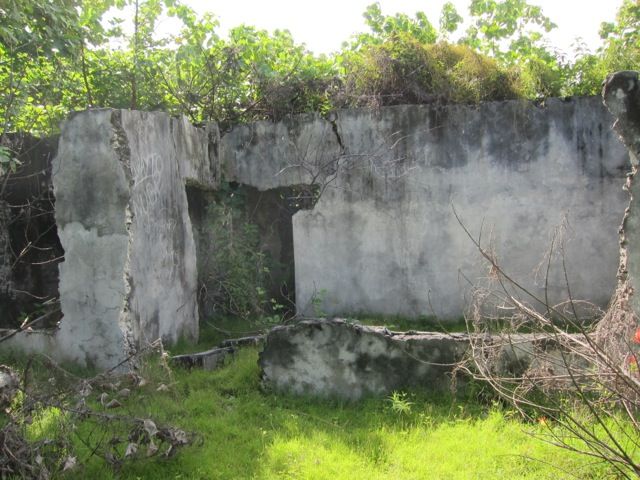 This kind of treatment truly sets this place apart and I cannot imagine getting similar service anywhere. So I guess now is a good time to mention that diving here is not in any way shape or form cheap. They changed the pricing structure to simplify it a bit but it basically works out at about $125 per dive per person including all taxes. So doing one morning a two tank dive for two people sets you back $500. Now in fairness it is pretty expensive to dive across the Maldives and other five star resorts charge similar amount. The Conrad is not far off, and I doubt very much they give this kind of personalized service. But just do not expect to come out here and be able to do this for free. You can I believe pay for activities with Hyatt Check Certificates so it's possible you could use say Southwest points at a penny each to pay for diving, or at least take some of the sting off.
If you can manage it, I cannot recommend it too much. Not only did we explore the beautiful underwater world and the intoxicating beaches of uninhabited islands, but on our last trip our great dive and boat crew actually took us on a tour of one of the large populated islands nearby. Being completely unscripted it was a really fascinating chance to see at first hand the "real life" of the Maldivian people who do not work in the resorts: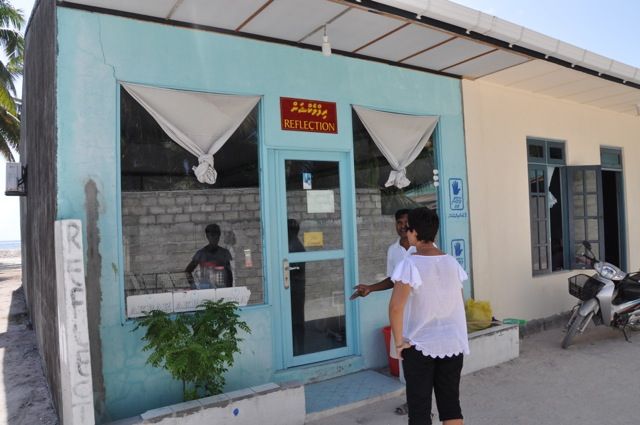 Of course the one other enjoyable aspect of all the diving is the chance to spend a lot of time on the Dhoni, which is a great boat with plenty of room to move around and a nice roof perfectly set up for sun-bathing en route back to the resort. We have now spent many a fine hour on these cool boats, with some beautiful views of the ocean, passing dolphins, flying fish… and some very optimistic dive plans from our dive master!:
Optimistic!
Now of course if you really do not want to or cannot afford to do the diving, the house reef at the Hadahaa island is truly spectacular and the snorkeling is world class. Even after diving all morning I would still like to go out in the afternoon for another hour or so of fish spotting. We also did a night snorkeling session one evening which was a lot of fun and highly recommended – the little reef sharks were in a very hungry mood which made for a few scary moments as they passed right by us!
This guy snapped below is someone I have seen a few times on the PHM Facebook page, he is the resident Hawksbill turtle and I can tell from the markings he is the same one they posted:
And here is yours truly trying to keep his head from burning in the sun while saying hello to the friendly turtle!
So there you have it… there is so much more to this place than the amazing resort itself. While I am sure you will agree from the last part of the trip report that the resort and the villas are quite something, what really makes the magic is the incredible world to explore nearby. We will for sure return to explore it more…
 You can subscribe to Miles Abound by email by signing up here. Keep up to date on ideas and experiences around miles and travel!